Grandma could bake. Just about everything she made turned out perfect,too. I loved her cookies and pies.
But....... I especially loved the sponge cake she made for our Birthday's. It was always covered with a sweet, fluffy
7 minute frosting
, and sprinkles. None of us could resist anything with sprinkles. My favorite were the tiny multi colored flowers.
She also had a special musical plate she put the cake on. The cake went round and round while "Happy Birthday to you" music played. We couldn't wait to put the cake on and wind it up!
My brother has the original plate, but here is a photo of one that is similar: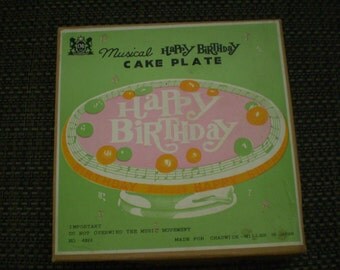 I decided it was time I make the sponge cake for my Birthday a few weeks ago. I didn't put the 7 minute frosting on though, I just served it with cream and strawberries.
It was light, sweet, moist and most importantly..spongy! It takes some time and effort to make this cake, and Grandma's recipe didn't have many instructions, so I did some research and found out how to make it
here
, at the joy of baking.
I wish I had taken the time to make the 7 minute frosting though, as the cake was good, but not quite the same without it.
But..I guess there's always next year!
Grandma's Sponge Cake
5 eggs, separated
1 c. sugar
5 Tbsp. cold water
1 c. cake flour
1 tsp. cream of tarter
1 tsp. vanilla
Beat egg yolks, water and sugar until thick and lemon colored. In a separate bowl beat egg whites. Pour the yolk mixture into the egg whites. Sift the dry ingredients together and slowly add to the mixture. Pour into a tube pan and bake at 375 for 30 to 35 minutes. Invert and cool.